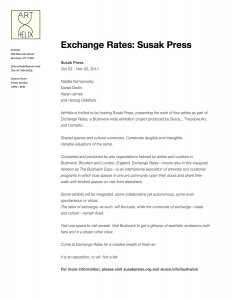 Exchange Rates: Susak Press
Susak Press / Oct 23 – Nov 30, 2014
Daniel Devlin * Natalia Kempowsky * Keran James * Herzog Dellafiore
ArtHelix is thrilled to be hosting Susak Press, presenting the work of four artists as part of Exchange Rates, a Bushwhack-wide exhibition project produced by Sluice_, Theodore:Art, and Centotto.
Shared spaces and cultural currencies. Currencies tangible and intangible. Variable valuations of the same.
Conceived and produced by arts organisations helmed by artists and curators in Bushwhack, Brooklyn and London, England, Exchange Rates – known also in this inaugural iteration as The Bushwhack Expo – is an international exposition of artworks and curatorial programs in which host spaces in one art community open their doors and share their walls with kindred spaces on visit from elsewhere.
Some exhibits will be integrated, some collaborative yet autonomous, some even spontaneous or virtual. The rates of exchange, as such, will fluctuate, while the currencies of exchange – ideas and culture – remain fixed.
Visit one space to visit several. Visit Bushwhack to get a glimpse of aesthetic endeavours both here and in a dozen other cities.
It is an exposition, to wit. Not a fair.
For more information, please visit susakpress.org and sluice.info/bushwick
ArtHelix / 299 Meserole Street / Brooklyn, NY 11206